the mureli house by sergey makhno
The Ukrainian firm Makhno Studio presents its Mureli House, a dwelling completed last summer outside Kyiv. Led by Sergey Makhno, the team explains that the project takes its name from an ancient Ukrainian word meaning "apricots" and is therefore designed to evoke the spirit of summer. This atmosphere is achieved through softness and lightness in its textures, tones and volumes. Curved surfaces embrace the occupant and soften shadows created by sunlight streaming in through large windows.
images courtesy of Makhno Studio |@makhno_studio
custom tiling and layout
Makhno Studio architects curate the interiors of Mureli House with ceramic tiles and custom fixtures to create continuity of form throughout. Elevated double-height spaces are overdone with soaring walls of intricate, textured tile and ceramic "Khmara" lamps that seem to float gently above. Soft shapes are repeated throughout the house at every scale, especially in the sweeping gesture of the grand staircase and in the rounded wall edges and corner conditions.
The architects describe the volumetric logic of the design process: 'This is a private house that allows you to create a design in volumes. We have highlighted the main details. For example, in the entrance group, we emphasized the round stairs, accentuated the height with our tiles and our own Khmara lamps, which are made to order.
Check out the architectural studio's product design pieces here, including tiles, lighting, furniture, and objects.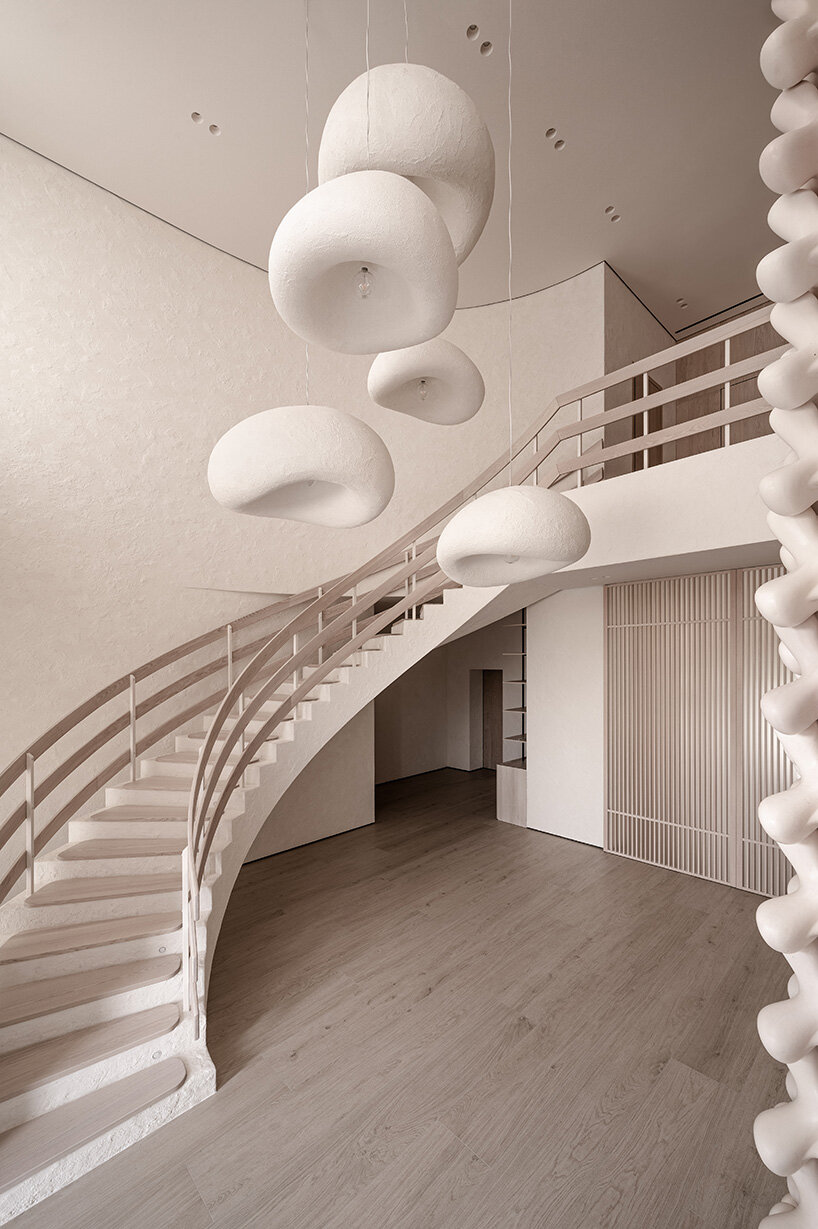 the soft tones of the interiors
In the three bedrooms, four bathrooms and shared spaces of the Mureli house, Makhno Studio covers the interiors in soft beige tones except for only two bedrooms – the area designed for the woman shows a touch of soft pink , while that of the husband area is punctuated with black and dark gray details. In keeping with the ubiquitous palette, the house is finished primarily in plaster, while wooden detailing is used in the furniture with a screen of vertical wooden slats at floor level.