There are a wide variety of statement options when it comes to shower flooring ideas. When it comes to planning a shower, your floor should be at the forefront of your mind.
The shower floor should be both durable and easy to clean, especially in high traffic homes, but that shouldn't stop it from looking good either.
The materials are many and varied, ranging from non-slip flooring and vinyl to luxury materials such as solid marble and stone. Be aware though that while bound to add an air of elegance, many natural stone floors will need an element of upkeep to keep your bathroom and shower room ideas looking their best. better.
Shower Floor Ideas
Shower and bathroom flooring ideas deserve special attention. The material should of course be durable, able to withstand frequent splashes of water, non-slip underfoot and preferably easy to clean, especially in a damp room.
1. Introduce a sense of luxury with marble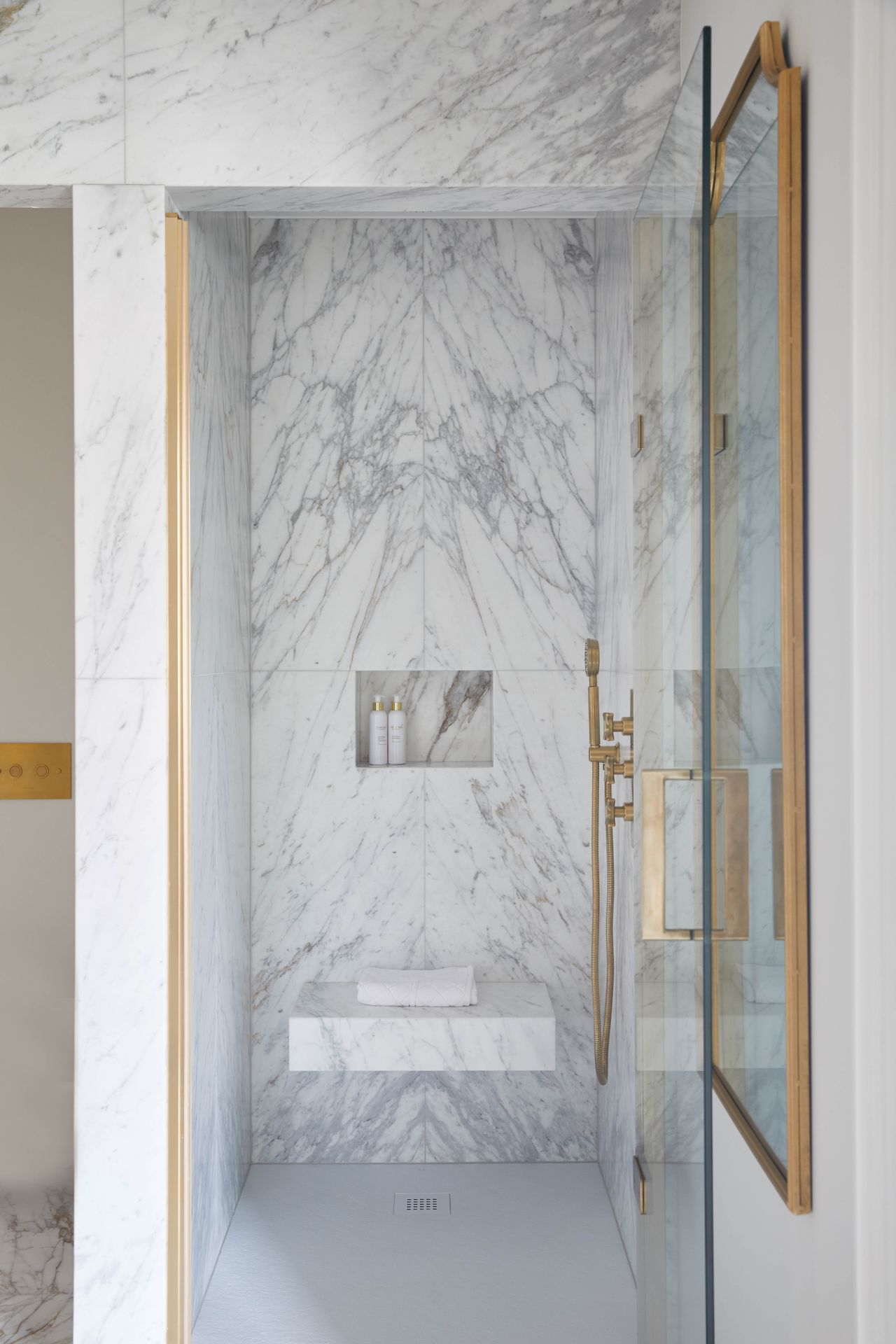 Modern, elegant and timeless, marble bathroom flooring ideas remain one of the most popular and coveted materials to use underfoot in a shower room.
"Calacatta marble was chosen for the walls and floor for a cohesive, seamless look that conveys a sense of calm," says Sara Cosgrove, Founder and Creative Director of Sara Cosgrove. This timeless material creates an elegant spa bathroom sanctuary.
Plus, marble is naturally water resistant and adds a luxurious, spa-like feel to a bathroom, whether you have a modern or more traditional space.
2. Add warmth with luxury vinyl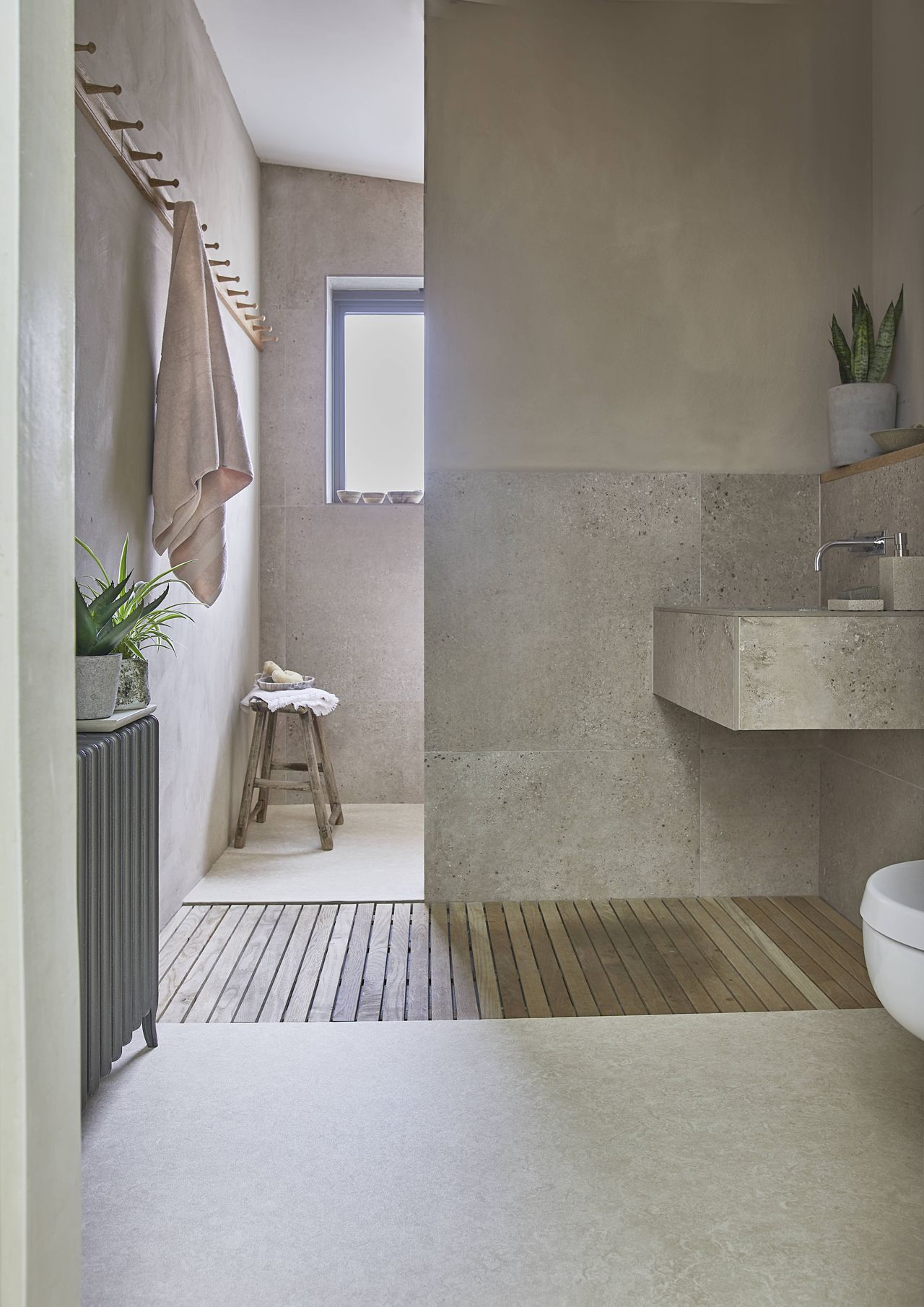 "Bathroom vinyl flooring ideas are a great way to create a stylish shower room without blowing the budget and are highly water resistant," says David Snazel, Hard Flooring Buyer at Carpetright . "In recent years there have been many developments in design and styles which mean that the effects that vinyl can create, such as shower floor tiles or wood, are incredibly realistic. It's a great choice for busy families with kids because it's durable while being softer and warmer underfoot than laminate. '
"For floors in wet rooms and showers in particular, it is worth investing in a specialist non-slip floor covering, with the highest level of slip resistance. Their improved installation method, with covering and molding the flooring, will ensure that it withstands daily downpours from a power shower.
3. Mix materials wisely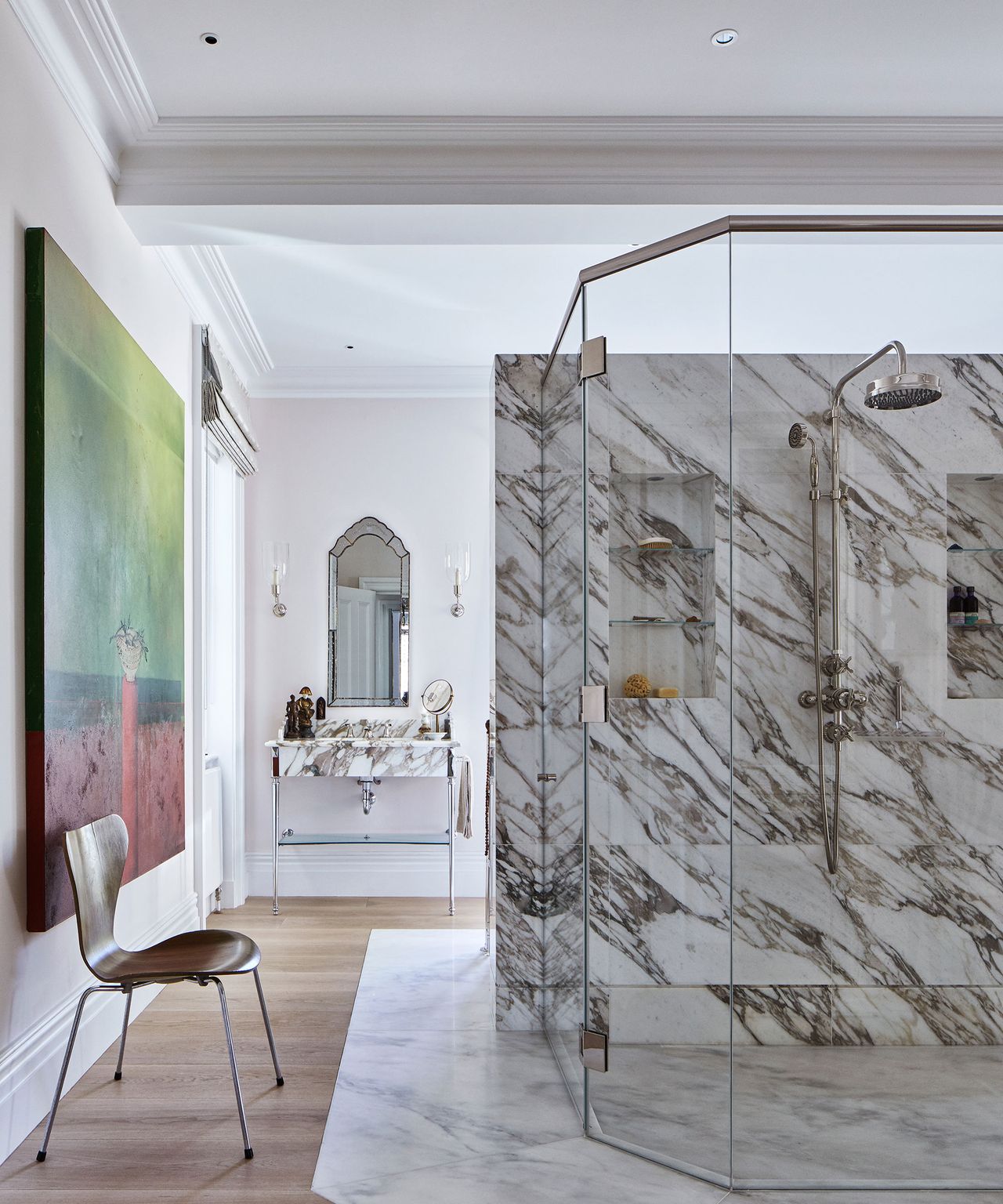 Your shower room floor doesn't have to be limited to one material. "We love how the boundaries of 'flooring' have been pushed back in this contemporary shower room," says Andrea Childs, Managing Editor, Country Homes & Interiors. "The marble flows into the space around the statement wall and the wooden planks sit perfectly in contrast while adding warmth visually."
4. Take an unusual approach by using waterproof paper on the floor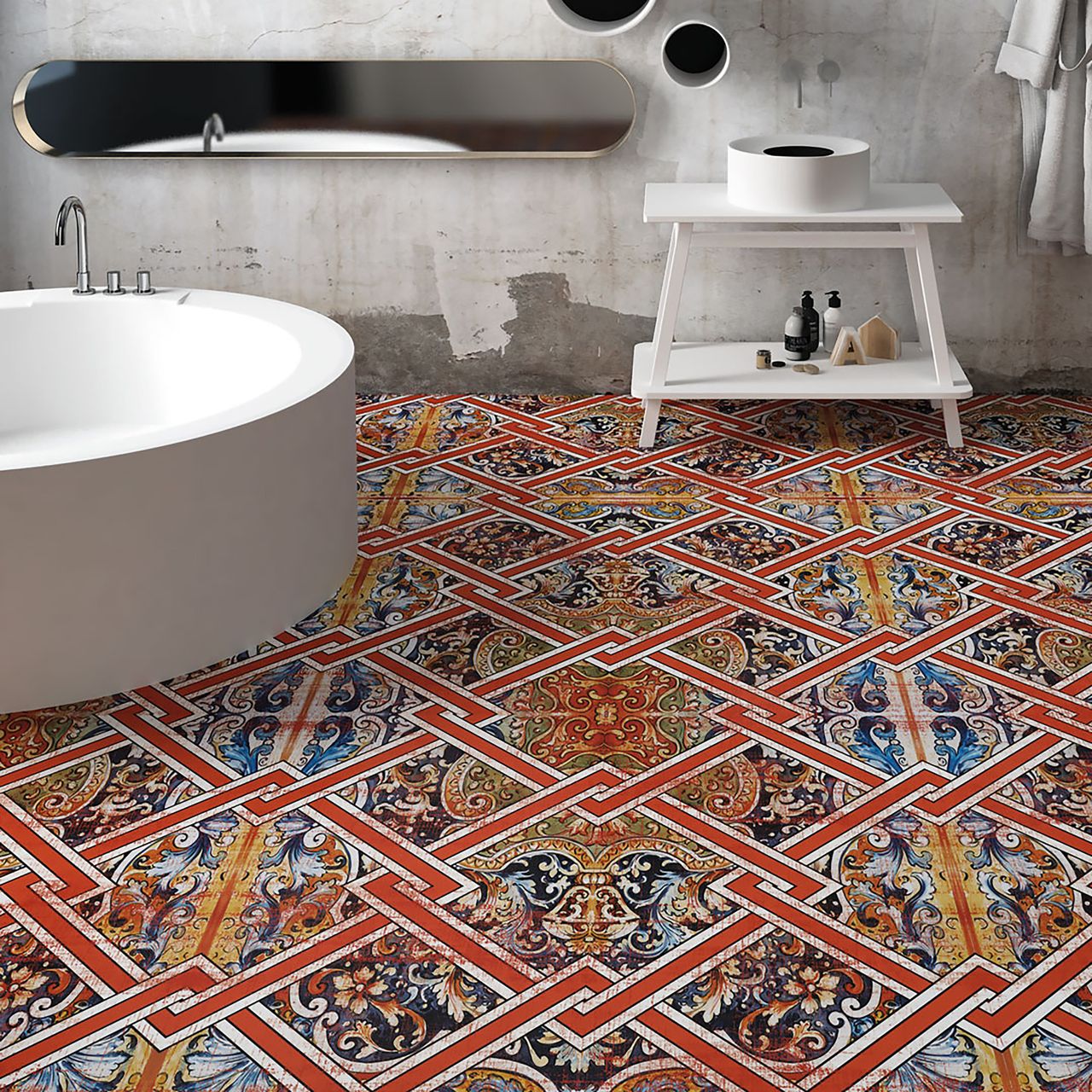 Being one of the smallest rooms in the house and serving a practical purpose, shower room ideas can be overlooked when it comes to decorating and can run the risk of being cold and clinical, but adding color and accents. patterns through the wallpaper, you can really bring warmth and character to the space.
"This revolutionary floor design is essentially a wallcovering that can be used on the floor," says Lucy Searle, Global Editor, Homes & Gardens. 'Made from fiberglass for a waterproof finish, it is sure to be the focal point of your shower room – pair it with white sanitary ware for a modern look.'
5. Opt for a glossy finish in a modern shower room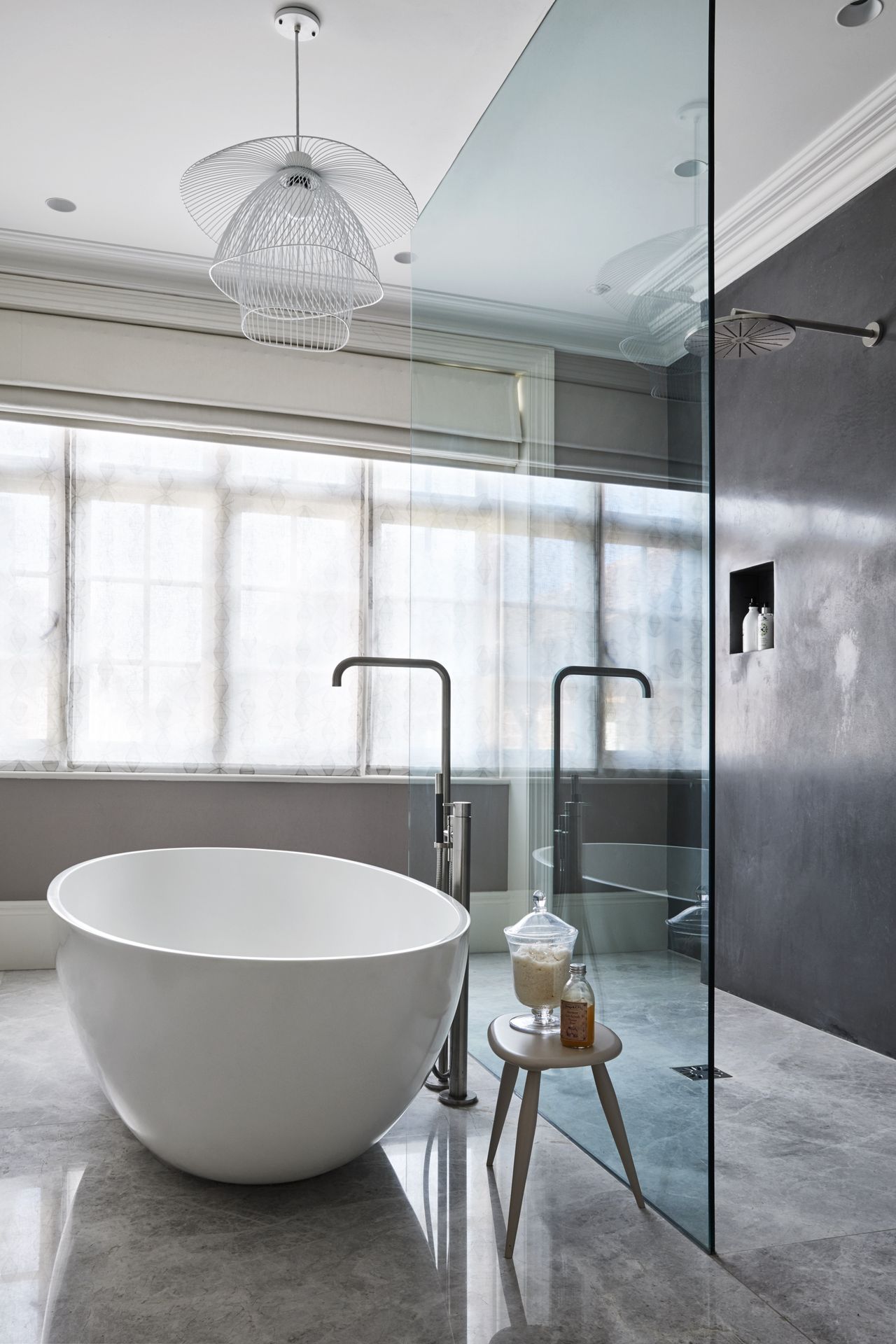 If you're looking for next-level luxury in your bathroom, exotic stone surfaces are the way to go.
"Shower flooring ideas don't get any sleeker than this stunning polished stone," says Jennifer Ebert, digital editor at Homes & Gardens. "Running throughout the space, the high-gloss finish creates a beautiful reflection of incoming light, which, along with the glass shower wall, gives this space a smart, contemporary edge."
6. Authentic wooden floors add warmth and character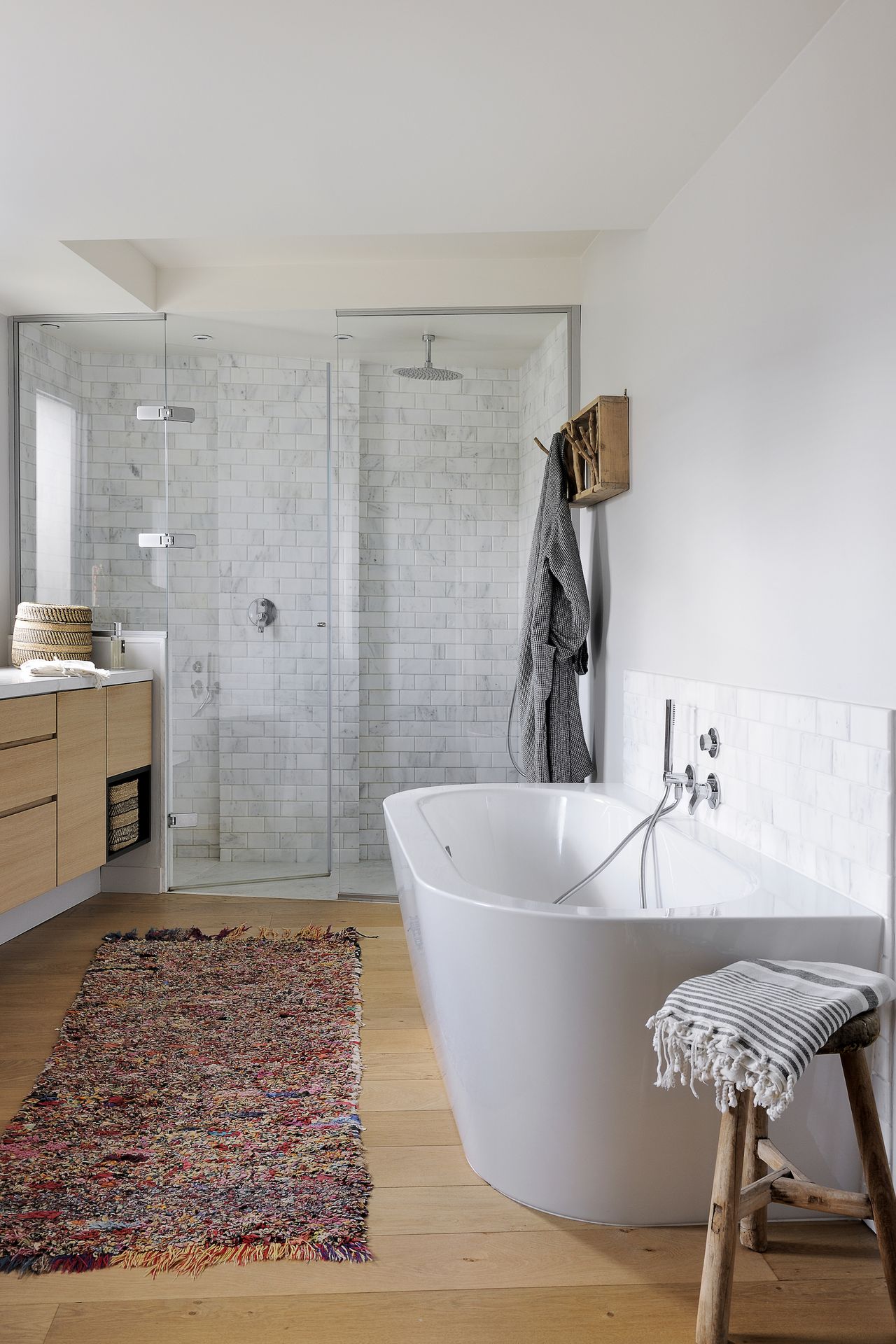 The timeless elegance and natural characteristics of wood continue to make it a popular choice for modern and country bathroom ideas.
Now more than ever, wooden bathroom flooring is at the forefront, with modern technologies enabling a plethora of patterns and textures that were not readily available before. "They work with underfloor heating and also provide great visual warmth," says Melanie Griffiths, Managing Editor, Period Living.
7. Lay traditional herringbone parquet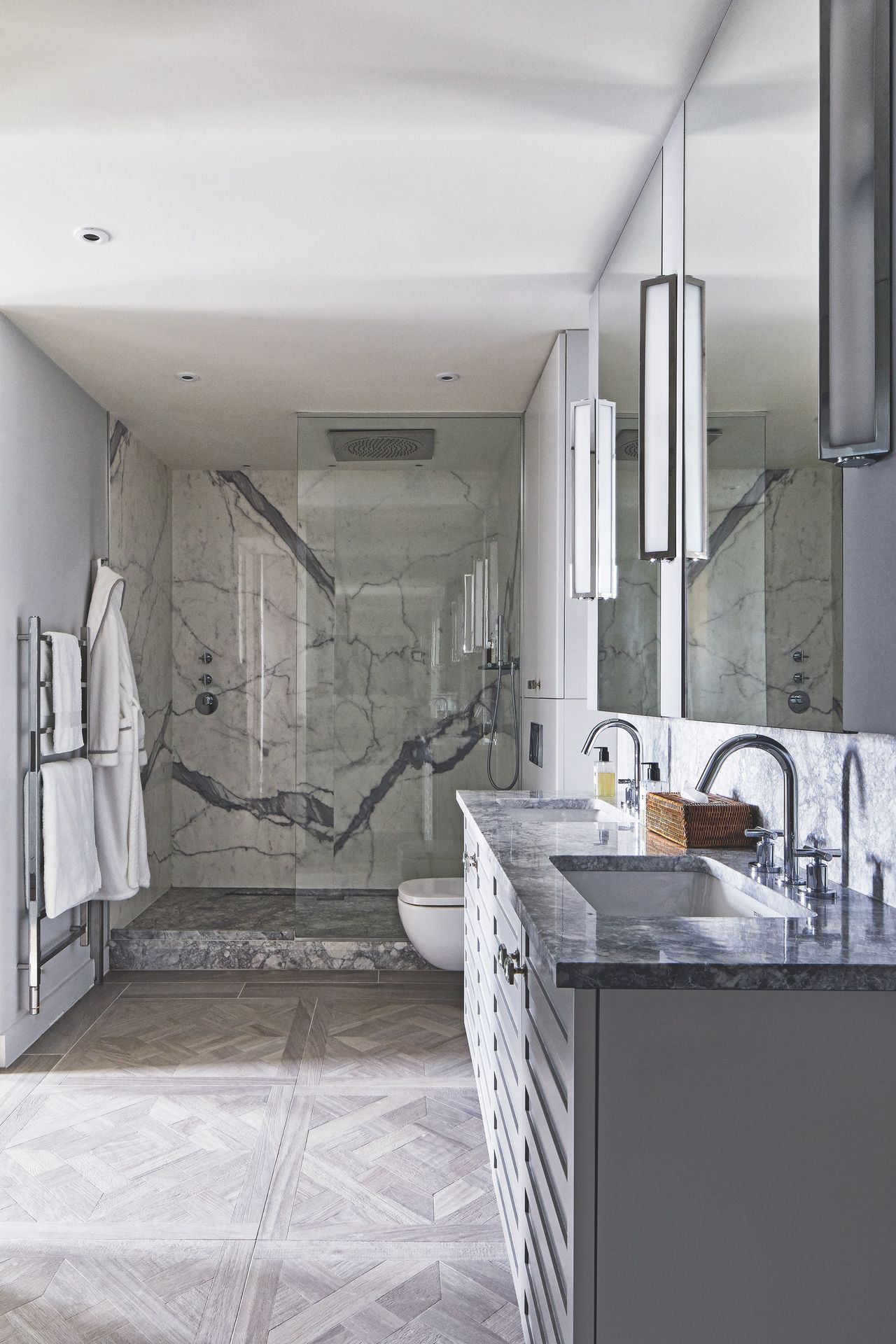 Heritage styles such as herringbone, wickerwork and parquet have seen a huge resurgence in popularity. Plus, the rustic textures and time-worn features once reserved for solid wood are now possible with engineered planks.
"Floor flooring is a popular choice throughout the home and it works right up to this eye-catching walk-in shower," says Andrea Childs, Managing Editor, Country Homes & Interiors. "It's great for adding a decorative look as it can be laid in a variety of ways, pair it with the rest of the color palette – we love how the tones work with the marble veins in this shower room."
8. Choose a narrow shower tray in a small space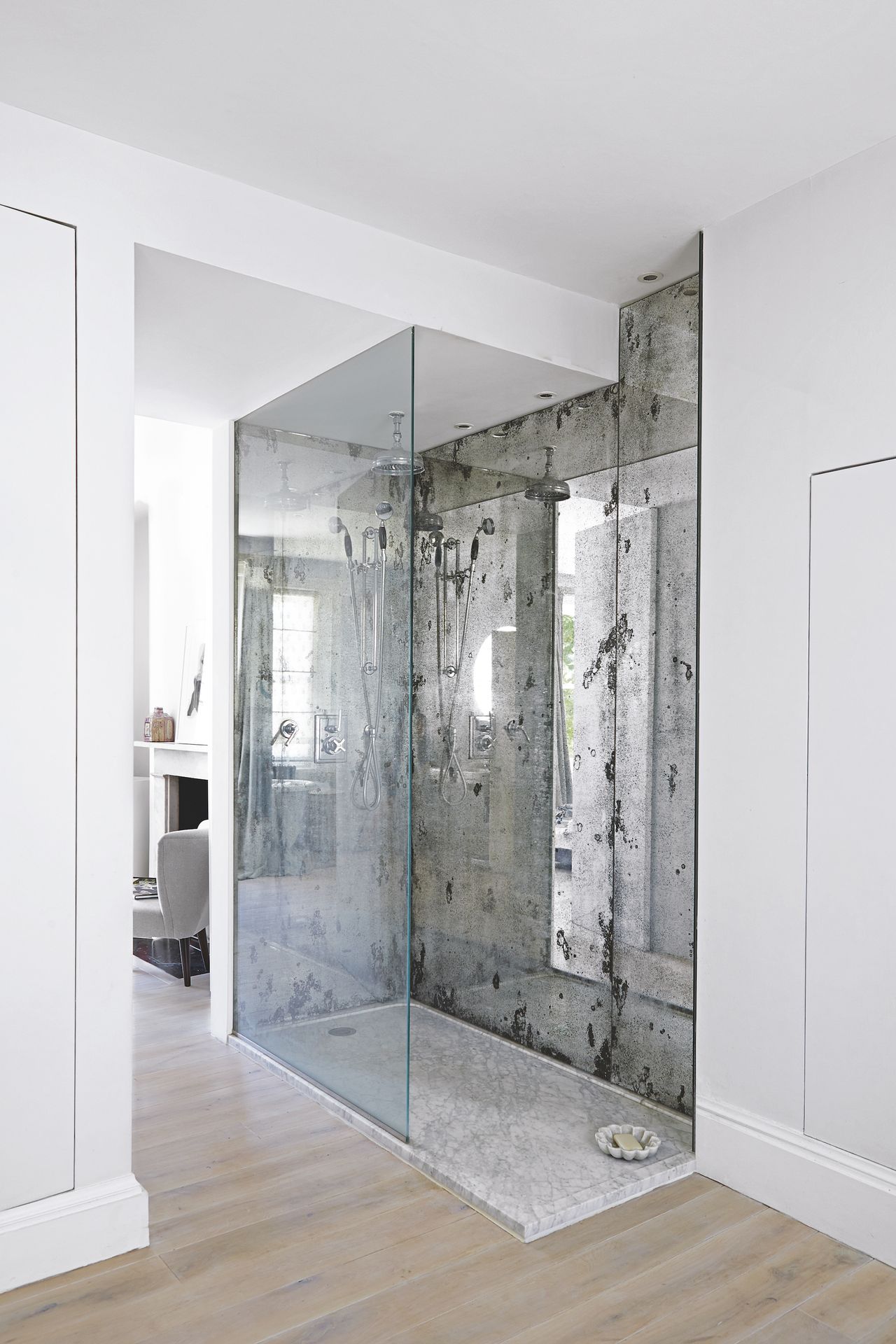 The humble shower tray gets a bad rap, but did you know you can get them in stone and marble? "They're ideal for showers in awkward spaces and those that are slim but super cool with their antique glass walls," says Lucy Searle, Global Editor, Homes & Gardens.
It's definitely not an economical option, but the beauty of marble flooring is that you can add it to your bathroom ideas in varying amounts and it can still make a big impact. So whether in the form of large format tiles, matching books or a simple shower tray, it will all help to enhance your bathroom design.
9. Play with scale on walls and floors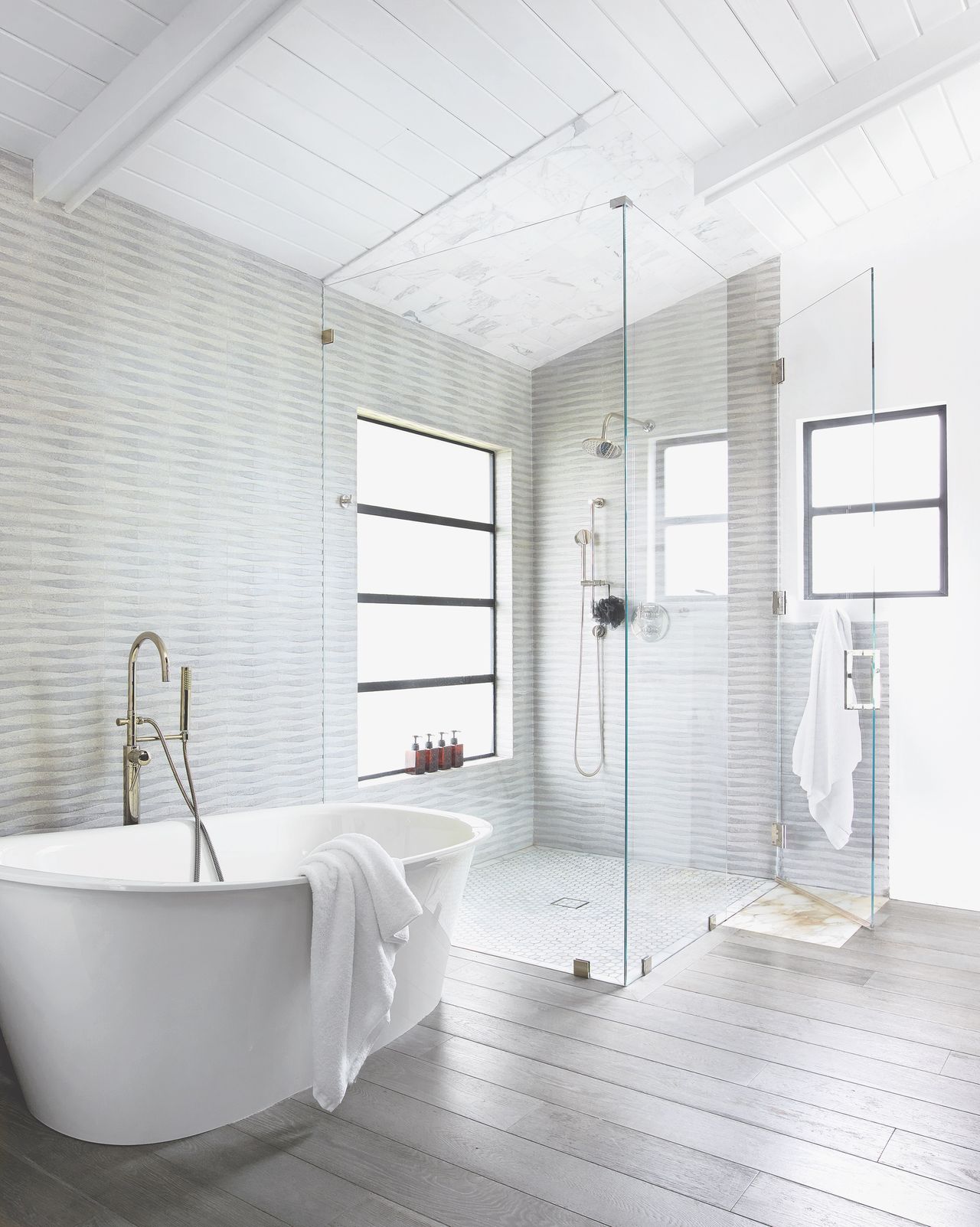 "Texture in interior design is key to creating a layered look that will look like it came straight from the pages of your favorite glossy magazine," says Jennifer Ebert, digital editor, Homes & Gardens.
"To create a shower room full of style, it is essential that there are many points of interest. This is where textures come in and you can use the shower floor as one of your main decorative elements. Small hexagonal or mosaic tiles vary in scale when paired with floorboards and textured wallpaper.
10. Go back to the past with terrazzo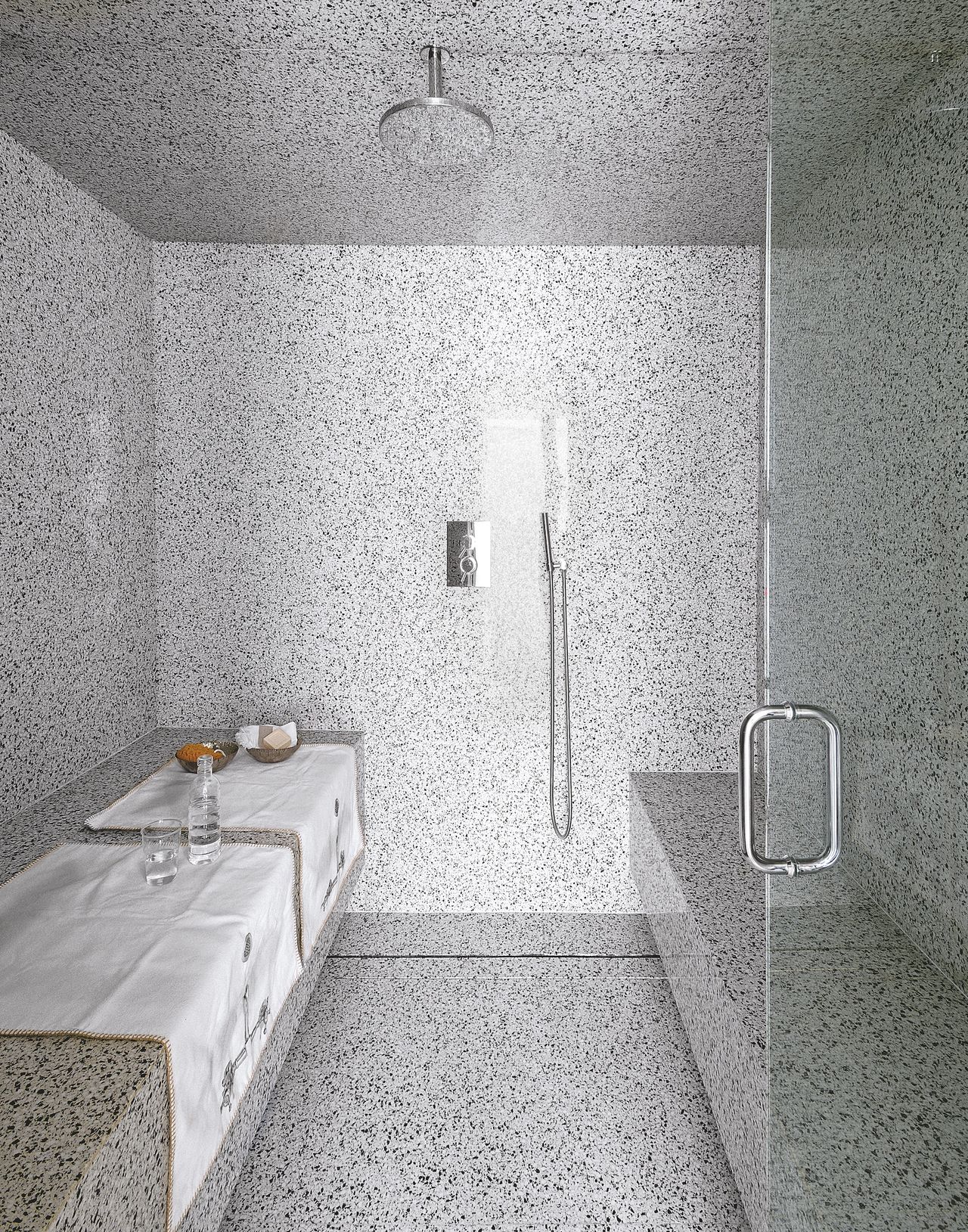 'Trouble deciding what to use for your shower floor? Why not go for an all encompassing terrazzo, it's fresh, modern and solves the problem of having different wall and floor tiles in one interior design swipe," says Lucy Searle, Global Editor, Homes &Gardens.
Its speckled colors and retro aesthetic make it a contemporary favourite: it can be mixed, poured in place and sealed by skilled craftsmen to create a smooth, seamless floor.
What is the best flooring for a shower?
When it comes to shower floor ideas, it's important to think about which type of tile is most suitable for bathrooms and showers.
Family bathrooms that have a lot of traffic will be best served by porcelain or ceramic tile, which are good non-slip flooring options for the bathroom. While natural stones can look amazing – book-matching marble bathroom floors or textured limestone are a great choice for walk-in shower ideas for example – they will need regular maintenance for them. maintain in perfect condition.
One of the biggest dangers in a shower room is the risk of slipping. "As soon as you splash water, surfaces can become slippery," acknowledges Mike Zarghami, designer at Bathwaters. "Choose shower floor ideas with a non-slip surface or opt for the alternative of vinyl or rubber flooring which can also bring welcome color to a family shower room."